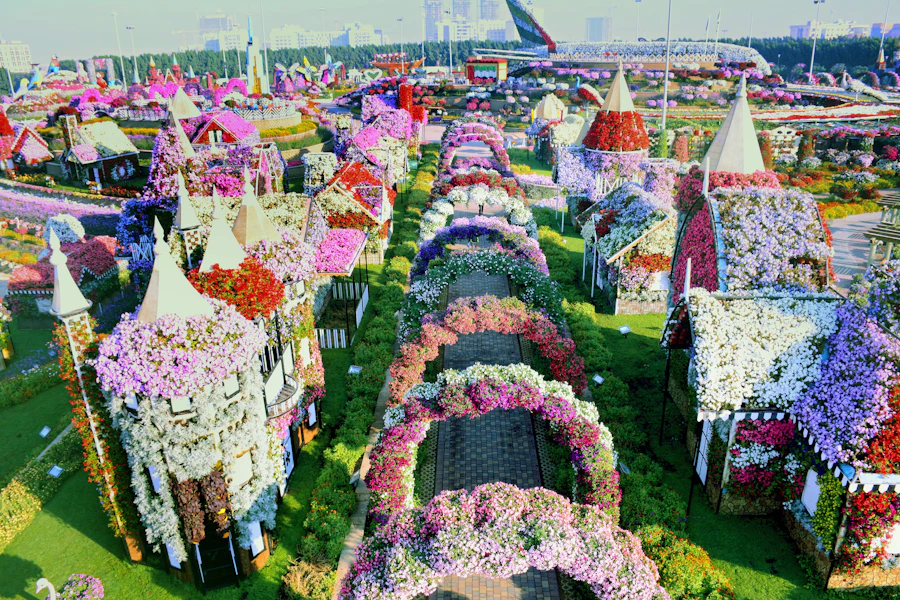 Get To Know Your Dubai Miracle Garden Tour Options 2022
Dubai is a land of extravagance and the Miracle Garden is no different. The stunning garden has enticed visitors with a spectacular exhibition of 150 million flowers spread over 72,000 square meters. This horticultural marvel should be on every traveler's wish list. Continue reading this page to find out all about booking a tour to the Miracle Garden.
Why Tour Miracle Garden?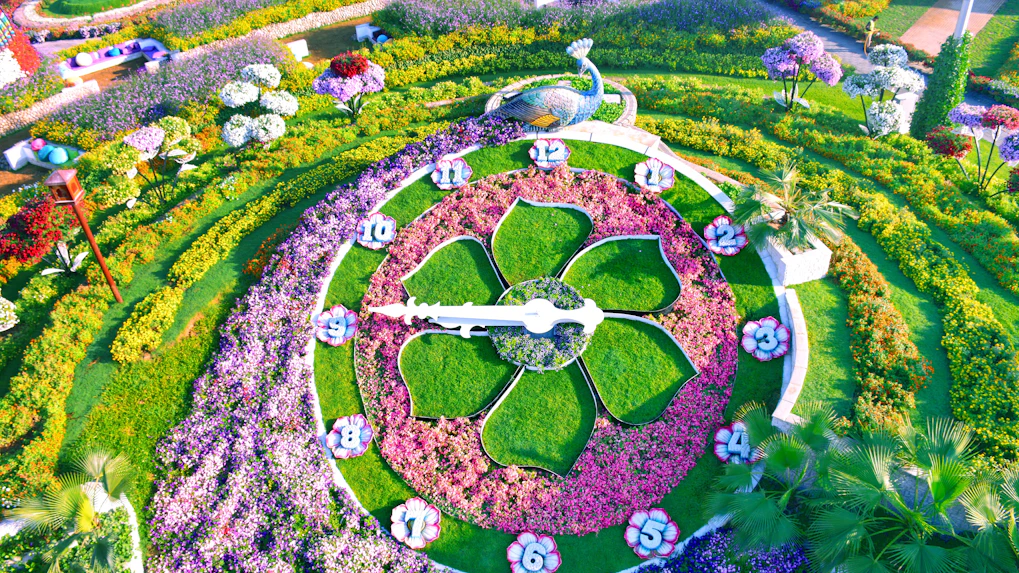 Miracle Garden is a landscaping marvel in Dubai that attracts visitors from all over the world and experiences 1.5 million visitors each year.
It is famous for its beautiful floral art installations and huge floral arrangements.
Spread over 72,000 square meters, it is the world's largest flower garden and has walkways that stretch for over 4 kilometers offering amazing scenery.
It is a three-time Guinness Book World Record holder for its floral arrangements and art installations.
It houses spectacular floral arrangements like the Airbus A380, the world's largest floral installation; Mickey Mouse, the tallest topiary art in the world; and Disney Avenue, the biggest topiary art in the world.
Miracle Garden Tour Options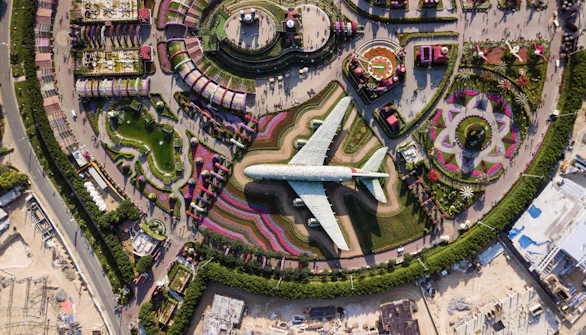 Skip The Line Tickets
Enjoy the benefits of the skip-the-line tour by gaining quick entry to the Miracle Garden. Skip the long queues and head straight to explore the multitude of flowers in a dazzling array of colors and arrangements. In addition to saving time, this tour offers you flexibility in terms of dates since your ticket will be valid for an extended period as mentioned on the ticket, to accommodate any sudden changes to your travel plans. 
Book Now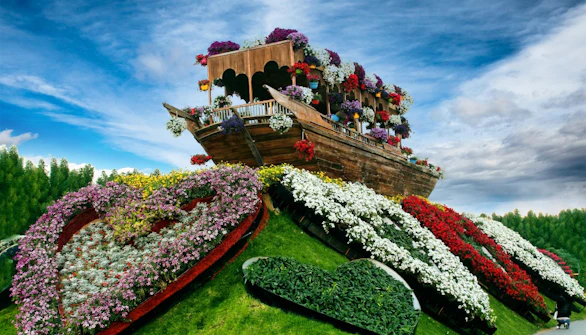 Tour With Transfers
The biggest feature of the tour with transfers is the pick-up and drop-off service, which promises a hassle-free traveling experience. Our tour offers six different meeting points for you to select from. You will be picked up in a shuttle bus at the point selected at the time of booking. After your 4 hours of a tour of the beautiful Miracle Garden in Dubai, you will be dropped off at the Mall of Emirates.
Book Now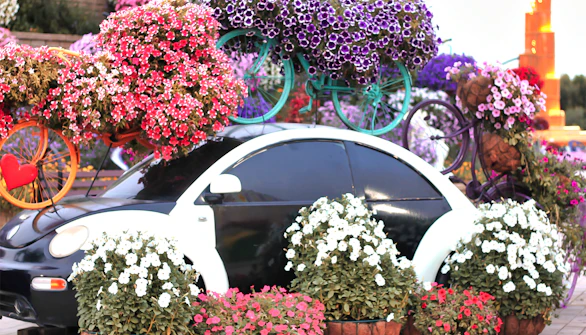 Combo Tours
Explore the best of what Dubai has to offer with a combination tour designed to show you the most worthwhile sightseeing spots. Combine your trip to the Miracle Garden with other attractions like the Dubai Frame, Aquaventure Waterpark, etc., and make the most of your day. The various types of combination tours offered are well-planned to help you explore multiple attractions at discounted prices.
Book Now
How Do I Book a Tour of the Miracle Garden?
The best way to book a tour of Miracle Garden in Dubai is to book your Miracle Garden tickets online. As you purchase your tickets online you get to enjoy the benefits of online booking that include cheaper rates and discounted booking. While you get to choose your preferred tour from the multiple tour options, you also get to enjoy advance booking on tours and experiences at your convenience.
Visitor Tips
Refrain from picking any flowers as it is strictly prohibited.
Wear comfortable shoes because the trip involves a lot of walking. Also, carry a hat/cap, sunscreen, and sunglasses to protect from the sun. 
Visit early morning or in the evening when it is less crowded. This will give you time to walk around leisurely. 
Handicapped visitors can make use of carts to get around.  
The trip requires 3 to 4 hours to fully explore all its corners. So, plan your visit accordingly.
Frequently Asked Questions About Miracle Garden Tours
Q. Can I book a Miracle Garden tour?
A. Yes, you can book a Miracle Garden tour by selecting from different Miracle Garden ticket options available online.
Q. How can I book a Miracle Garden tour?
A. You can book a Miracle Garden tour by purchasing your preferred Miracle Garden ticket online.
Q. How much does a Miracle Garden tour cost?
A. Miracle Garden tour tickets are available in various price ranges starting from AED 49, with each offering various features and facilities.
Q. What are the different types of Miracle Garden tours?
A. The different Miracle Garden tours include skip-the-line tours, tours with transfers, and combo tours.
Q. Does the Miracle Garden tour include transfers?
A. Yes, you can select the Miracle Garden tour with transfers which gives you access to pick-up and drop-off services. 
Q. Does the Miracle Garden tour provide skip-the-line access?
A. You will find skip-the-line access in the Miracle Garden tour. 
Q. Does the Miracle Garden tour have combination tours?
A. Yes, the Miracle Garden tour offers a collection of different combination tours.
Q. Is a Miracle Garden tour worth it?
A. The Miracle Garden tour is a one-of-a-kind attraction in Dubai where you can explore 150 million flowers in extraordinary shapes and designs.
Q. Do the Miracle Garden tours include skip-the-line access?
A. Yes, you can book the skip-the-line access tour for a price of AED 49.
Q. Can I cancel a booked Miracle Garden tour?
A. The cancellation policy of the Miracle Garden tour tickets depends on the kind of ticket you have purchased. Make sure to check your ticket information before purchasing. 
Q. How long is the Miracle Garden tour?
A. An average visitor tends to spend around 2-4 hours at the Miracle Garden.