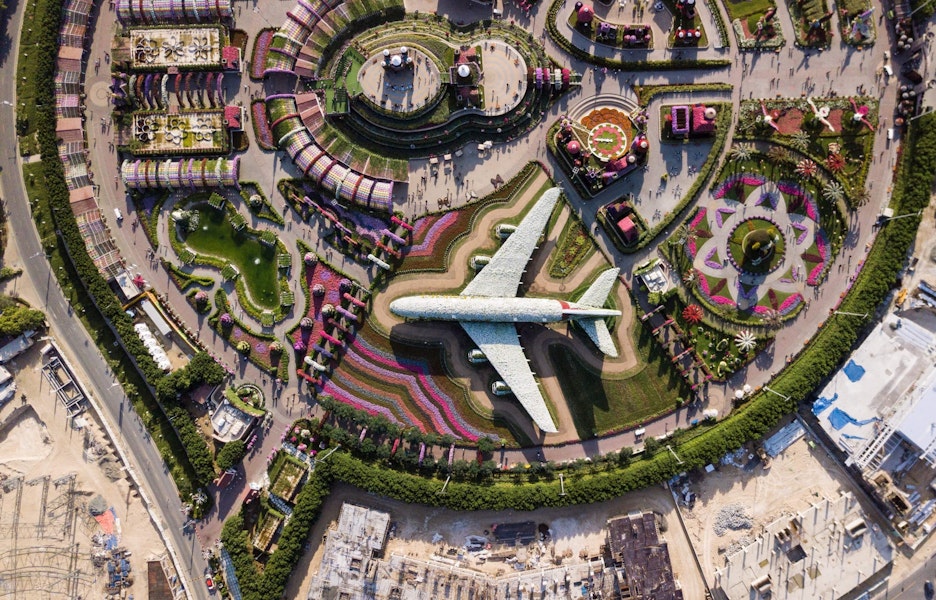 Things to Do Inside Miracle Garden Dubai
The world's largest natural flower garden, Miracle Garden Dubai is truly miraculous. If you ever wondered what 45 million flowers in a desert would look like, Miracle Garden is where you should be at. These beautiful and vibrant flowers are sculpted into fabulous designs making Miracle Garden Dubai truly spectacular. From a giant replica of an Emirates A380 to a dedicated bicycle riding path, the botanical garden is fabulous in every sense of the word. If you're excited to plan your visit to Miracle Garden but unsure about your experience there, we have got you. Listed below are some of the top attractions and things to do in Miracle Garden Dubai.
Things to Do Inside Miracle Garden Dubai
If you thought Dubai Miracle Garden is home to over 45 million flowers planted without any plan or layout, you're mistaken! The flowers at Miracle Garden are showcased in innovative ways including a stunning floral replica of the renowned Burj Khalifa, a beautiful flower arc, houses, huts, and other exhibitions. If you're planning a trip to Miracle Garden Dubai, you'll need to know which attractions and exhibitions you must visit. Here's a list of things to do in Miracle Garden Dubai: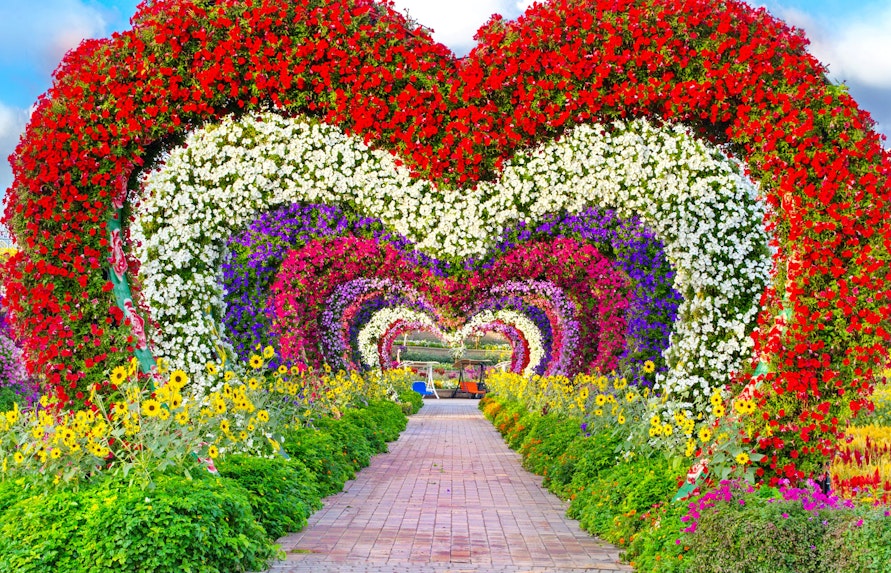 Hearts Passage
Ever wondered what it would feel like to walk through a breathtaking passage made of massive floral hearts? You don't have to keep wondering anymore! Miracle Garden Dubai is home to an awe-inspiring Hearts Passage that features colorful and aromatic flowers that'll transport you to paradise as you walk through the passage. One of the most popular things to do in Miracle Garden Dubai is getting pictures clicked inside the Hearts Passage.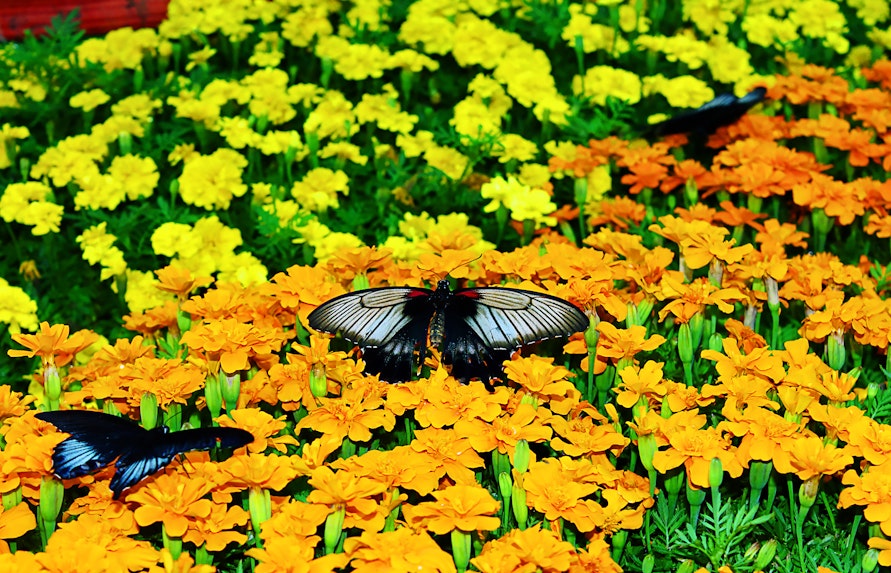 Dubai Butterfly Garden
Located next to the Miracle Garden Dubai is an equally miraculous attraction - the Dubai Butterfly Garden. Home to over 15,000 beautiful butterflies from 50 different species, this butterfly sanctuary is one of the most popular attractions in Dubai. Within the garden, you'll find 10 unique, temperature-controlled domes that allow the butterflies to be comfortable while having plenty of space to fly around.
Dubai Butterfly Garden tickets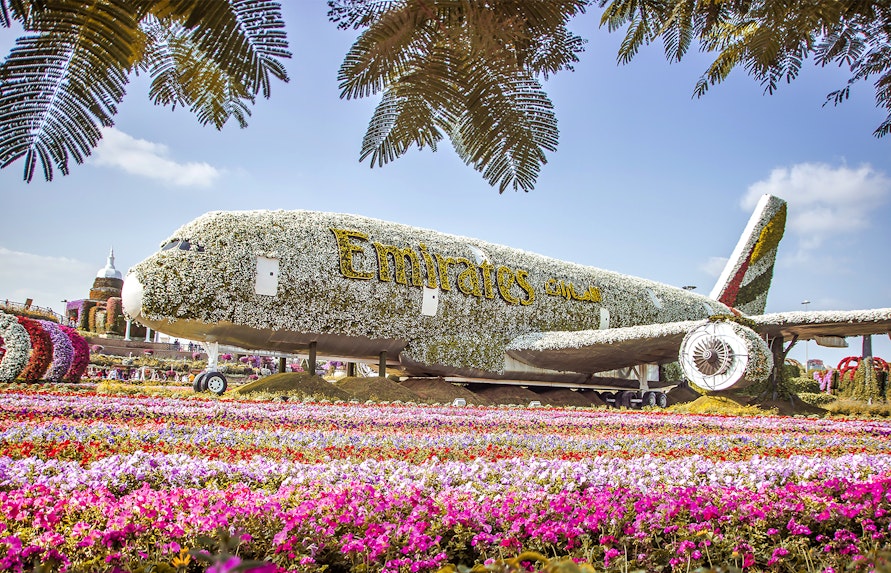 Emirates A380
A botanical wonder unlike anything you have ever seen before, the Emirates A380 is amongst the most popular attractions in Miracle Garden Dubai. A life-size replica of the Emirates A380 plane covered with over 500,000 fresh flowers and plants, the Emirates A380 is beautiful, majestic, and worth every minute of your time. The Emirates A380 installation also holds the honor of being the world's largest floral installation.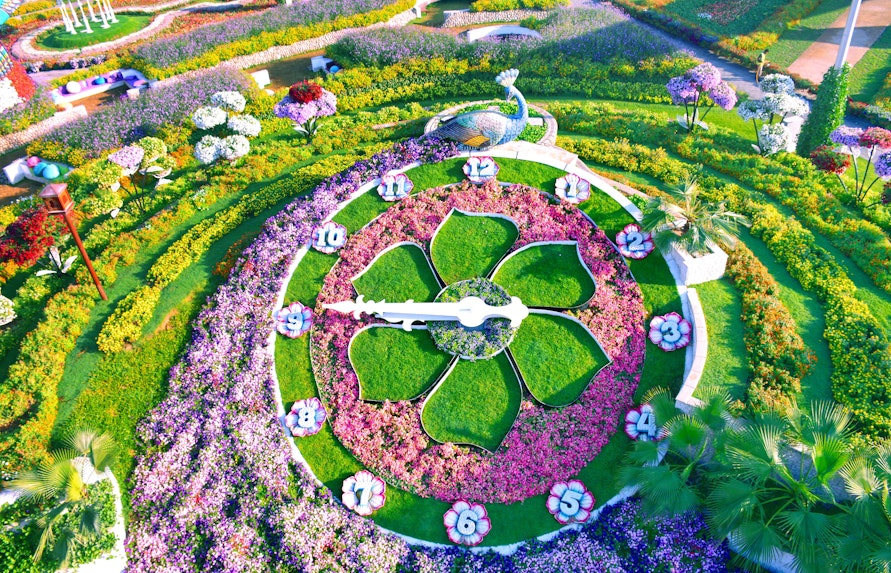 Floral Clock
There's no limit to the creativity and passion of the team behind Miracle Garden Dubai and this is at full display at the Floral Clock. This beautiful, 15-meter wide clock is made entirely out of real flowers and plants with the mechanical parts of the clock being imported from the US. The best part about the Floral Clock? The design and flowers on display at the clock change according to the season.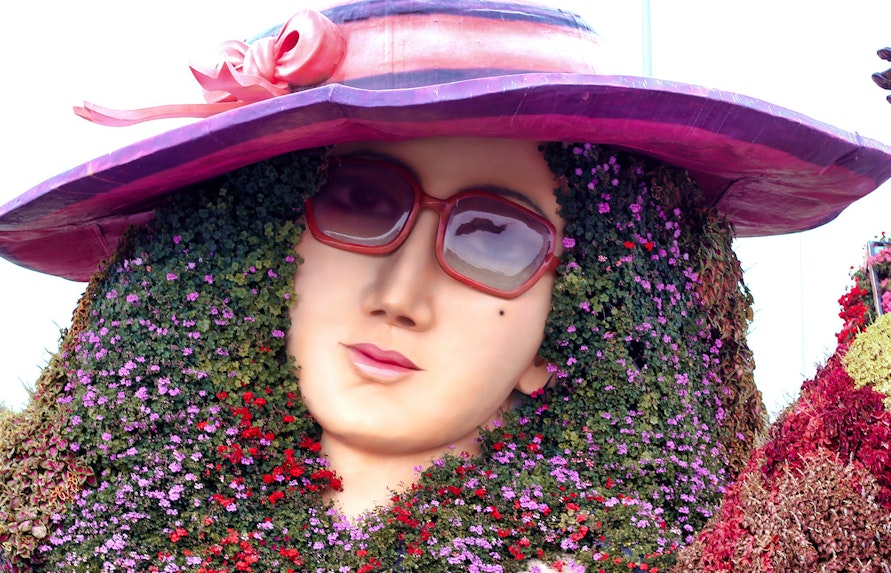 Big Teddy Bear
Everyone loves a cute and cuddly teddy bear, and at Miracle Garden Dubai, you can get pictures clicked with a 12-meter high teddy bear made painstakingly with thousands of flowers and fresh plants. The teddy bear is holding an equally massive heart and proudly spreading the message of harmony, peace, and love. Amongst the newest attractions in Miracle Garden Dubai, the big teddy bear is a must-visit.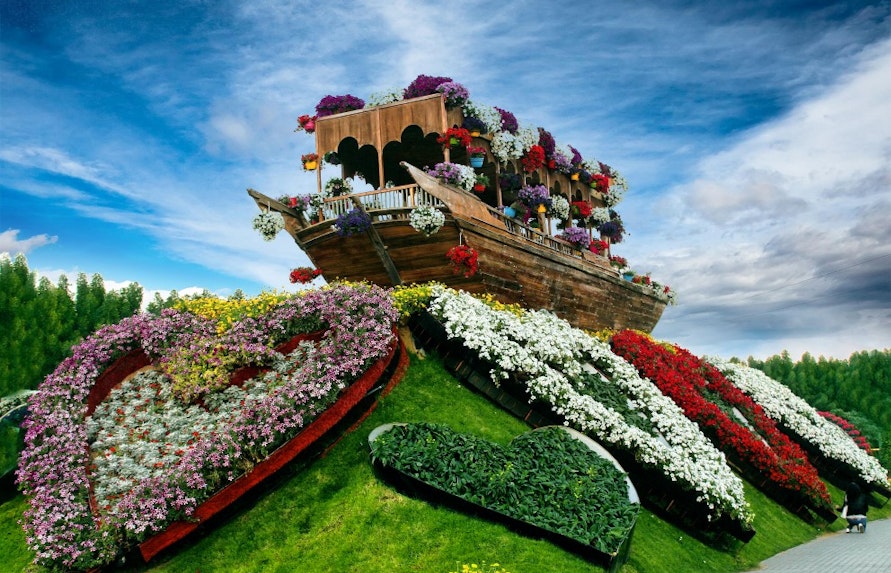 Disney Avenue
One of the biggest highlights of Miracle Garden Dubai, Disney Avenue is home to iconic Disney characters, in life-like topiary form. A definite highlight of Disney Avenue is the 18 meters high Mickey Mouse floral structure which features over 100,000 plants and flowers! In February 2018, the Mickey Mouse topiary earned the Guinness World Record for World's Largest Topiary Structure.
Other Things to See in Miracle Garden Dubai
While these are some of the top things to do in Miracle Garden Dubai, there's a lot more you can explore if you have the time. One such popular option is Lake Park. A waterfront haven in every sense of the word, Lake Park is amongst the few rare water bodies in Miracle Garden. Visit Lake Park for a peaceful stroll. Other must-visit attractions in Miracle Garden Dubai include Trampoline Park with 12 custom-made trampolines for the entire family, Floral Castle for all the fairytale and fantasy enthusiasts, and the majestic Amphitheatre where live performances and theatrical shows are organized.
Book Your Tickets To Dubai Miracle Garden
Purchase your Dubai Miracle Garden tickets online to enjoy the convience of booking your prefered slot from the comfort of your home without waiting in long queues.