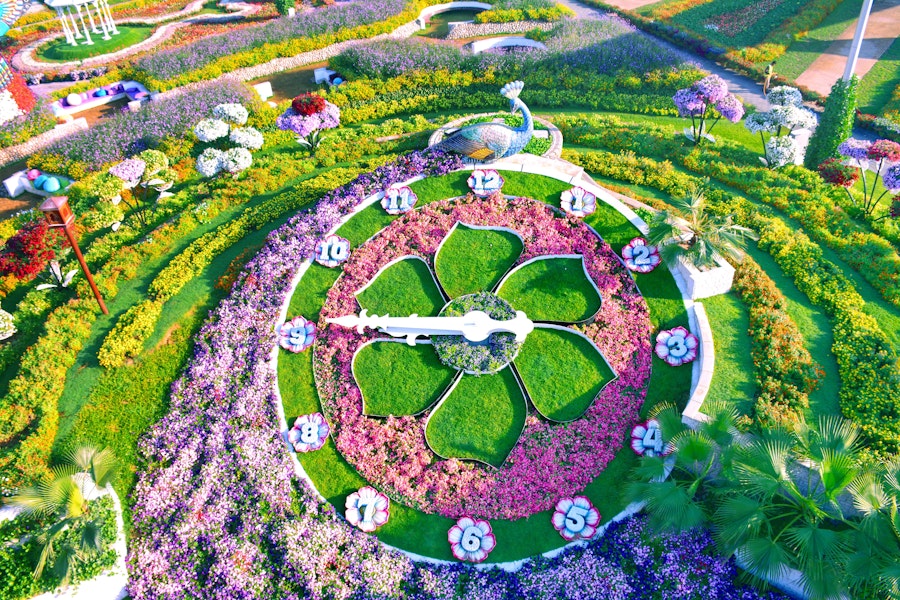 About You Need to Know About Miracle Garden Dubai
If you are looking to escape to a city with a bustling urban vibe that offers some sea breeze, a sun-kissed warmth, and some relaxation on the beach, then answer that call and head to Dubai. Perched where the deserts meet the sea, Dubai is a melting pot of global culture, offering an array of unforgettable experiences. Even though there's much to do and see, why not begin at the Miracle Garden Dubai?
Miracle Garden Dubai is a horticultural attraction aimed at both locals and tourists and is also known as the world's largest natural flower garden. More than 150 million flowers and 120 plant varieties are exotically arranged, in different structures and shapes, to form colorful arches and patterns.
About Dubai Miracle Garden  
Located near the Arabian Ranches, this 72,000-square-meter (size of 13 football fields) attraction is the brainchild of designer Abdel Naser Rahal. First launched in 2013, the Miracle Garden has more than 150 million blooming flowers impressively arranged to form famous buildings and structures.  
The Miracle Garden Dubai is home to multiple world records. In 2013, it set the Guinness World Record for the largest vertical garden. It added another feather to its cap with the floral rendition of an Airbus A380 superjumbo aircraft in 2016. Its latest record is the World's Largest Topiary Structure (of Mickey Mouse) in February 2018. So if you are tired of malls and closed places, let floral scents and colors stimulate your senses while you soak in some breathtaking visuals at flower garden Dubai, which is now in its ninth season.
What to See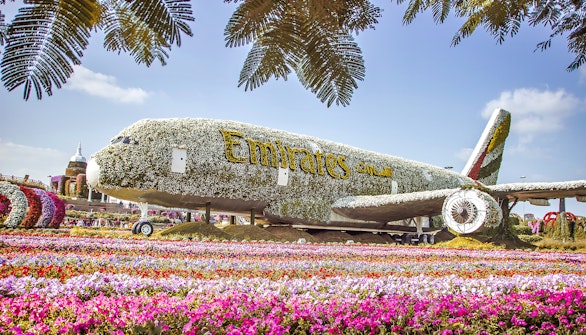 Don't miss out on seeing the largest flower arrangement in the world- the life-size rendition of the Emirates Airbus A380. Almost 40 tonnes of flowers- petunias, sunflowers, marigolds, geraniums, etc., were used to create this Guinness World Record winning, eye-catching masterpiece.
Enjoy Disney's most iconic characters at Disney Avenue. An 18-meter floral structure of Mickey Mouse features almost 100,000 plants and flowers. You can also explore the structures of other Disney characters here.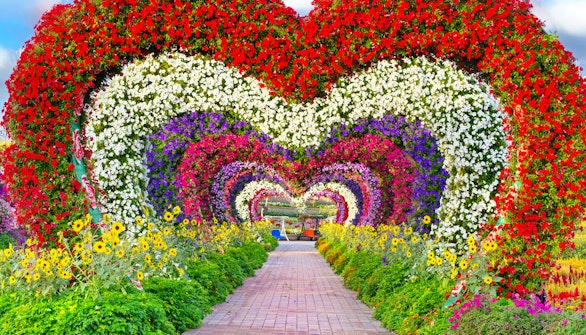 Immerse yourself in a dozen of hearts as you walk through the jaw-dropping heart-shaped installation, the Hearts Passage. With thousands of flowers engraved to form each heart, the Hearts Passage is one of the most sought after attractions at the Miracle Garden.
If your little ones are looking for some playtime, allow them to release their energy at the Trampoline Park. For other options, the events at the Amphitheatre will fuel their creative spirits.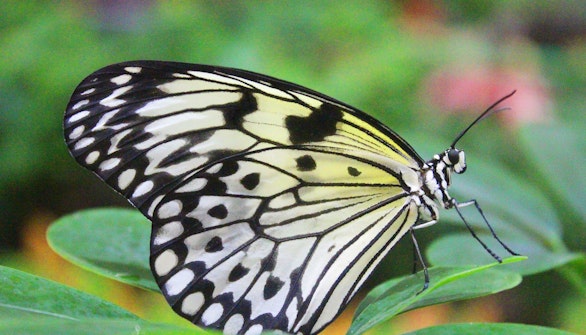 If you love chasing butterflies or observing them while they recharge themselves in the sun, the Dubai Butterfly Garden inside the Miracle Garden offers a unique experience to do that. Home to more than 15,000 butterflies of 26 different kinds, a visit here can be entertaining and educative.
Don't miss the newest addition to the garden- a teddy bear with a heart that's sending out lots of love and harmony! The 12-meter-high attraction is made using thousands of fresh flowers and plants.
Visitor Rules 
The use of professional cameras and drones are not allowed inside the Miracle Garden Dubai.
Only use those passages, walkways, and exits, allocated to tourists when on the premises.
Picking flowers from the garden at Miracle Garden Dubai is strictly prohibited. The management has all the rights to expel any visitor from the park if involved in misconduct.
You cannot carry your food and beverages to the Miracle Garden Dubai. You may purchase them from the eateries on site.
Use of non-motorised vehicles (cars, scooters, bicycles, hoverboards) is not allowed.
Miracle Garden Dubai is not a pet-friendly zone.
Know Before You Go
The park is open 9 AM - 9 PM during weekdays, 9 AM - 11 PM on a Friday and 9 AM – 10 PM on a Saturday.
You can take a taxi to get to the flower garden or use public transport. Take the metro (red line) to the Mall of Emirates (MOE). Bus No. 105 connects MOE to Dubai Miracle Garden.
The flower garden remains open only from November to March. Since average temperatures during summer months soar up to 40℃, the garden is closed June to September.
Since the size of the Dubai Miracle Garden is equal to the size of 13 football fields, getting around will easily take you at least two hours, which means a lot of walking. Make sure to wear comfortable clothing and footwear. Carry sunglasses, cap/hat, or an umbrella to shield yourselves from the sun.
Dubai Miracle Garden has state-of-the-art facilities like parking slots, sitting areas, souvenir shops, kiosks, prayer rooms, first-aid rooms, security rooms, and toilet blocks. If you're tired walking, you can chill out at the cabanas.
Dubai Miracle Garden: FAQs
How can I book my tickets for Miracle Garden Dubai?
You can purchase your tickets at the venue or online. We recommend getting tickets online and in advance as the attraction is extremely popular and tickets sell out quickly.
Who can avail discounts, if any?
Tickets are free for people with special needs and children below 3 years of age. The garden offers reduced ticket prices for children between 3 years of age to 11 years of age.
What are the timings of Dubai Miracle Garden?
Dubai Miracle Garden is open 9 AM - 9 PM during weekdays and 9 AM - 11 PM on a Friday. On a Saturday, the park operates from 9 AM - 10 PM.
What are the facilities available at Dubai Miracle Garden?
Dubai Miracle Garden has state-of-art facilities like parking areas, sitting areas, prayer room, washrooms, ablution facility, first aid room, wheelchairs for visitors with special needs, souvenir shops, and food kiosks.
Is Dubai Miracle Garden wheelchair accessible?
Yes, the attraction is wheelchair accessible.
Are COVID-19 precautionary measures taken?
Dubai Miracle Garden is a COVID-safe business. All guests will have to undergo thermal screening before entering the venue. Hand sanitisers are available in all paths of travel.